110608-1114 "Hazy June Morning"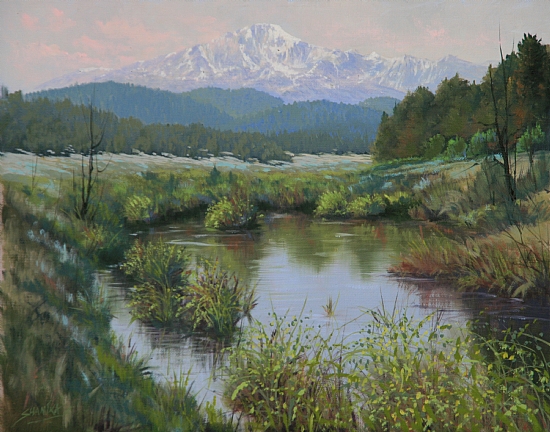 Medium: Oil on Panel
Size: 11 x 14
Availability: Sold

Contact the artist about this artwork
Gallery Info
Shanika Studio & Gallery
303-647-1085
Artist Comments
I created this painting on location for the Pikes Peak Plein Air Painters' show hosted by 7-Arrows Gallery in Woodland Park, CO. I stood just off the road in the very early morning. This a shallow bog just upstream from Manitou Lake. It was a beautiful morning. The shy's colors were hazed & muted due to the forest fires in New Mexico, Arizona & southern Colorado. My only distraction was when cars buzzed behind me. Sometimes it felt as though they would blow me off into the water.
Price includes a high quality, hand crafted, five in wide, cherry finish, lightly distressed, pine frame.
Please always contact the gallery for current price and availability.