080503-3648 Late Summer Run-Off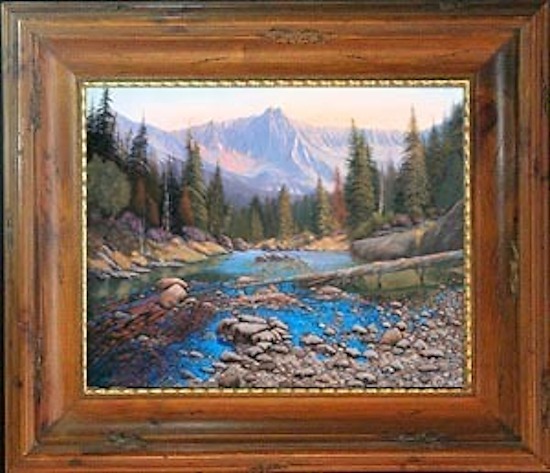 Medium: Oil on Canvas
Size: 36 x 48
Price: $8,000.00 USD
Availability: Available

Contact the artist about this artwork
Gallery Info
Shanika Studio & Gallery
303-647-1085
Artist Comments
This is a painting of a high country tranquil stream. The mountains in southwest Colorado are rugged and beautiful. They collect snow all winter and release it all summer. By late summer the streams may only be a trickle. This is late summer and just before sunset. The setting sun casts a warm pink glow on the mountains. It does not last long.
Sales Terms & Free Shipping from Shanika Studio
Free standard UPS shipping on unframed artwork in the lower 48 states.
The price noted above is for the original painting without a frame purchased directly from my studio.
There will be a nominal packing and shipping charge for artwork shipped with frames as they become larger and much heavier.
I have a variety of frames available. I offer these frames at my wholesale gallery prices. I'll be happy to send images of the frames and their prices. Just contact me.
* No sales tax for purchases outside of Colorado.
You can pay with the security of Pay Pal.
My Pay Pal account is shanikastudio@aol.com
You can choose to pay with a direct bank funds transfer. Call, I'll send you instructions.
If for any reason you are not satisfied, simply return the undamaged painting to me using the same packing. I'll refund your purchase price, less a small $15 service charge.
This is a one-of-a-kind original, please contact gallery for current price and availability.
(The retail galleries that stock my work set their own retail prices
and have their own shipping policies.)