Main | Suppy List (Outdoor Classes/Workshops) »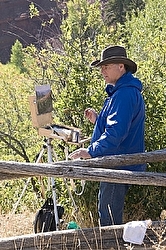 Plein Air Oil Painting Wprkshop Information
The Basics And Beyond -
An introduction to Plein Air Painting
Instructor: Kenneth W. Shanika, BFA, CPF, Associate member of OPA & APA, Master Member of the PPPAP
Director of the Pikes Peak Plein Air Painters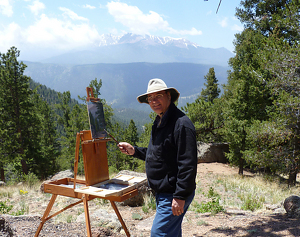 Always wanted to learn or improve your skills painting the landscape? Need to re-hone your skills? Need some encouragement? Still searching to discover that "elusive" element that your paintings are missing?
I can inspire you.
I'll provide lots of one-on-one attention. It will be fun!
This class is for you!
Plein air painting requires a unique approach and also poses many of its own difficulties. How do you choose your subject? What is the best way to set up? How do you compete with the changing light conditions? How do you translate the vast outdoors onto a small canvas in a short amount of time? These kinds of questions will be addressed during the workshop, and the majority of the time will be spent painting at different locations around the Pikes Peak area. We will focus on the importance of the fundamentals of painting: design, value, color and edges and will also discuss advanced topics like brushwork, texture and creating the feeling of confidence in your work. I will demonstrate my painting techniques and offer hands-on instruction as together we capture the unique beauty of the area.
Join Kenneth W. Shanika, an award-winning oil painter with 35+ years of art experience and a seasoned, sought-after instructor, for 3 days of intensive and fun art instruction painting landscapes in the studio. Ken will pass on his years of experience on how to create a dynamic, light-filled painting and guide students through the process. Students will learn the fundamentals to create a painting that is not only stunning and moving, but structurally sound in composition, color and technique. Get hands-on experience in how color temperature changes, edge control and other methods can guide an eye through a painting and tell a story. Learn how to edit in the field and from photos to strengthen your compositions and concept. Enjoy the freedom and inspiration that painting can bring!
Class meets in Woodland Park, CO and go from 9:00 am to 4 pm. Workshop includes lectures and demonstrations, hand-outs, lots of one-on-one instruction and features the most beautiful view of Pikes Peak. And of course lots of fun!
Each participant will "paint along" with Ken and hopefully go home with several completed paintings and an energized confidence in plein air painting.
Space is limited to 10 students, so register today!
Highly sought after as an instructor, Ken Shanika has a hands-on approach to teaching that involves sharing his technique and knowledge, focusing on the individual needs of each student and sharing his love and enjoyment as an artist.
"I will assist each student to overcome limitations and reach a new level of expertise, confidence and energy for their art." ~ Kenneth W. Shanika
Ken is the Founder and the Director of the Pikes Peak Plein Air Painters, an associate member of the Oil Painters of America and American Plains Artists. He received the "Rose Award" from the Susan K. Black Foundation. He has taught numerous painting classes and workshops in the United States.
Teaching Philosophy
"I strongly believe in the importance of a foundation of technical proficiency. Without this foundation, an artist is attempting to communicate in a language he does not understand. To learn a new language, one must also learn the alphabet and the rules that govern the language. On a basic level, an artist's alphabet is his medium and method of execution. The rules of his language are portrayed by such things as line, shape, design, value, color and edge quality. With this technical foundation, an artist becomes able to effectively communicate his ideas, emotions and feelings, and can continually advance to new levels with his work."
Dates: August 20-21-23 2012
Times: 9:00 Am to 4 PM daily.
Location: We will meet in Woodland Park at a designated spot. From there we will explore various places with views of Pikes Peak. Ken will provide a list and description of his favorite painting spots.
Class size: Minimum Number of students is 4 the maximum number is 10.
(Classes will be cancelled and a refund given if the minimum is not met three days prior to class start)
Fee: $325 per student for all three days! (payment in advance with registration)
You can rent equipment at the workshop and most of the needed supplies for an additional $60. (Bring a wet panel carrier to transport your finished paintings home.)
Cancellations: If you must cancel from the workshop, the following terms apply:
Up to 30 days prior to the workshop, 100% of money paid minus a $25 clerical fee will be refunded.
Canceling 30 days or less prior to the workshop start date 100% of money paid less a $50 clerical fee.
If Kenneth Shanika must cancel a workshop for any reason, fees you have paid for that workshop will be refunded in full. Kenneth Shanika or Shanika Studio is not responsible for any travel charges or other expenses incurred by the students under any circumstances.
Bring your spouse. The Pikes Peak region is a major vacation destination. There are lots of places to see and things for your spouse to do while you are painting.
Shanika Studio will host a picnic style dinner the last evening. Students can visit the studio and can take advantage of discounted prices on Ken's artwork.
Note: Woodland Park is a quaint mountain town at an elevation of over 8000 feet. It is recommended that you arrive a day early to get use to the elevation. Click here for information on dealing with the altitude.
Comments